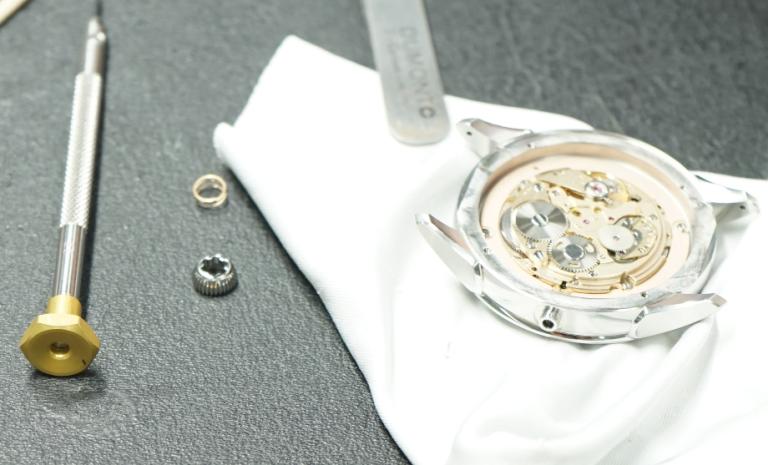 Visit to the watchmaking atelier
Have you ever been to a watchmaking atelier? We were given the opportunity to look over the shoulder of our watchmaker in Jura as he assembled the first DBF008 model line.
If one wants to observe a watch in the making, patience and a good eye is a must. This is especially true for the watchmaker himself.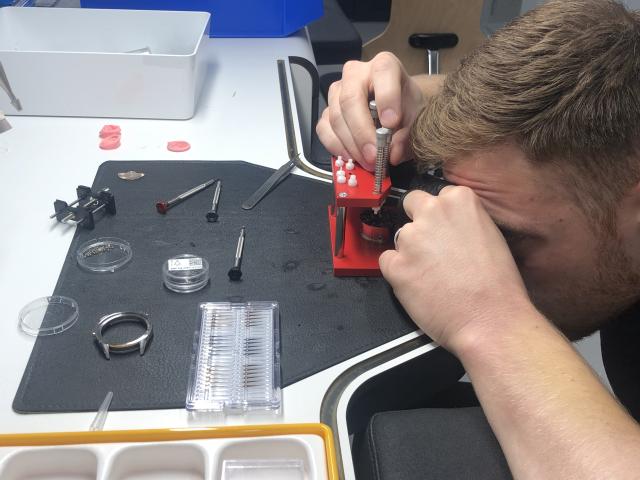 A good watchmaker knows how to join the smallest parts, how to place them at millimeter precision, and how to screw them on. Our professional in Jura knows his craft. He has studied both the movements and the case down to the smallest detail before starting the assembly of the prototypes and creating new watches from the individual pieces.
Typically Swiss
The new DBF008 collection by DuBois et fils is created entirely in Switzerland. The technique used for its production is "typically Swiss".
Swiss craftsmanship
When developing the DBF008, it was important to bring the face of the watch into focus to the greatest possible extent. Thus, in manufacturing the DBF008, we rely on age-old Swiss watchmaking techniques: 
The case of each watch is assembled from the bottom up.
The bezel of the DBF008 is pressed onto the watch from the topside. This works because it isn't screwed down, but instead snaps open and closed.
The domed box sapphire crystal makes the dial look amazingly large. It extends extremely far outwards and is framed by a fine edge.
Each step in the production of the DBF008 is carried out individually and by hand.
Old craftsmanship reactivated
Connoisseurs will immediately notice the soldered lugs, when taking a look at the DBF008. These are another example of how historical and modern craftsmanship are combined: 
The connecting elements between the case and watchband were first polished and only then soldered to the satin-finished area of the case.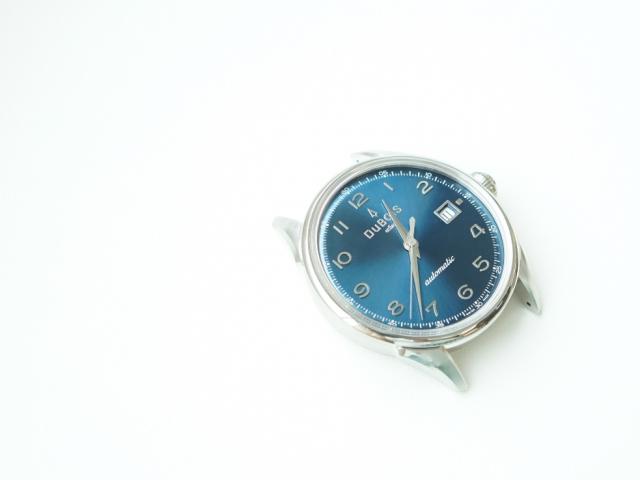 For this process, the DuBois et fils production team researched and reactivated one of the oldest techniques for assembling case parts of a watch: the strap holders are soldered on the DBF008.
The watch industry knows soldering from the past. Since the very beginning, the hinges of pocket watches were attached by soldering and watchmakers also used the same technique for the first wristwatches. In today's world the process is quite complex and expensive. The technology is used — if at all — only for precious metals.
With the DBF008 we are reactivating this old, valuable technique. In DuBois et fils watches, traditional craftsmanship hasn't disappeared into the history books, but continues on your wrist.