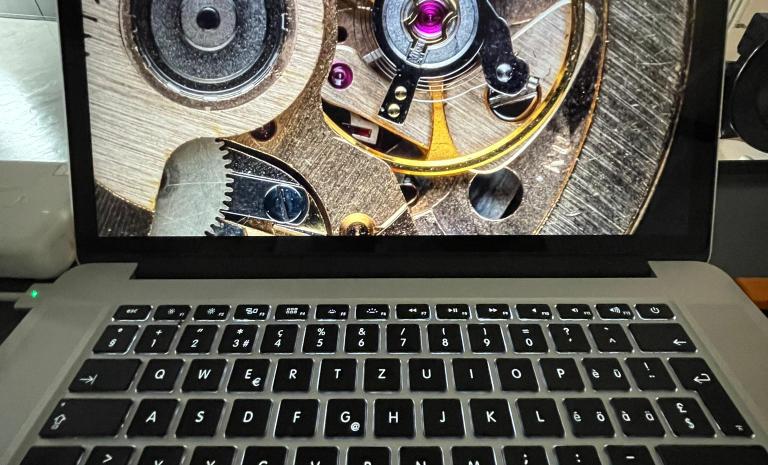 Watches with NFT
For many people, Blockchain, NFT and co. are new processes that are still unfamiliar. At first glance, this territory seems to be complex. We are familiar with the terrain and would be happy to show you how straightforward it is. With us, you will get to know this fascinating, novel possibility in an uncomplicated way and automatically become part of this pioneering system offered by Dubois et fils. 
Good news and even better news
Everyday life is easiest when it runs along a familiar path. Everyone knows their own routine and likes their comfort zone; it is there we feel comfortable and secure. DuBois et fils holds to this pleasant situation.
The good news
When purchasing a watch, everything is still the same as it was. You either purchase your piece of jewelry online or stop by our showroom. Once on your wrist, the dream watch gives you a touch of life experience that you take home when you buy the watch.
The even better news
With a watch made by DuBois et fils, you're not just reading the time and joining the ranks of connoisseurs. You get a time machine that tells a story. The secret is tokenization. We have developed the concept for this added value in order to connect you directly to your watch – and so to the life of this extraordinary piece of jewelry.
It means that when you buy a watch, you are automatically part of our NFT community. Thanks to this pioneering concept, you get a virtual watch in addition to the real one!
Tokenized watches at DuBois et fils
With tokenized watches we have created pieces of jewelry that exist both physically on your wrist and in the digital world. Behind this is the modern technology of non-fungible tokens (NFTs) — you can find out what the term means here — with a lot of creative potential.
We have developed an NFT concept for our movements and watches. This enables us to secure and make actual DuBois et fils products accessible with a specified value in a virtual space: each tokenized watch is secured by us on a blockchain. It is a kind of virtual database where data cannot be changed. Each DuBois et fils piece is stored there with its unique value and protected from counterfeiting.
Watches with NFT
Now all of our DBF007 and DBF008 are mapped on a blockchain. When you purchase a watch, you therefore automatically receive personal access to it. There you will find various reports on the history of the installed movement and on the production process in Switzerland. Other important information about the watch is also stored on the blockchain, such as a digital certificate of authenticity from DuBois et fils, which records the origin of your watch.
Continue writing the history of the watch
You can continue writing the digital diary of your watch individually. That data is not available to the public. Whether it be videos, texts or images — all of the documents are stored there securely and for generations to come.
It is very important to us that you feel secure. That's why we develop timepieces that are as solid and high-quality as they were a hundred years ago and at the same time with a keen eye to the future.