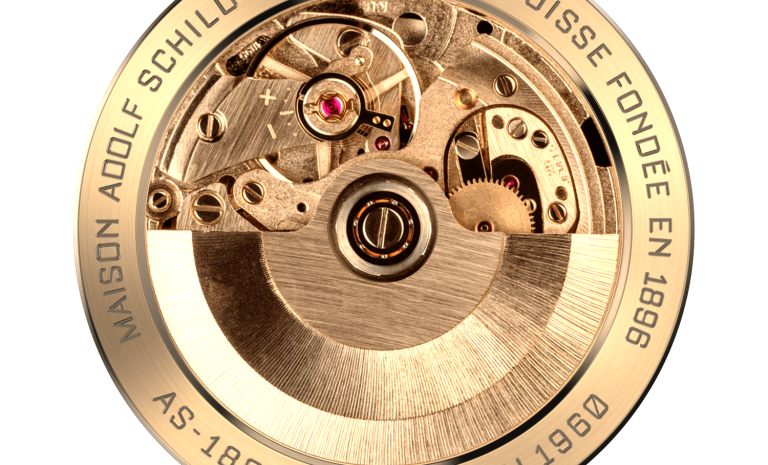 How does Tokenization work?
DUBOIS ET FILS REDEFINES THE CREATION OF A WATCH
Soon it will be possible to purchase an extraordinary automatic watch movement from the last century at DuBois et fils and to experience first-hand how it becomes a watch. We assign a virtual token to all 330 available movements, use them to produce limited watch series and map the relevant steps of this process on the SwissValueCHain blockchain. Here you can find out how the tokenization of these historical witnesses works.
Be there when we – together with you – make history.
YOUR TOKEN
When buying an automatic movement "Caliber AS-1895" made by A. Schild S.A. in the 1950s and 1960s, you will receive a token. The price for this first movement token (= movement with token) will be CHF 95.00. You will then have the opportunity to accompany your movement on its way into the future and experience how it is built into your own watch.
The tokens are issued using blockchain technology. Your token is the "digital twin" of your watch movement, is transferred to you with the purchase and is proof of your ownership. The movement physically remains in the possession of DuBois et fils.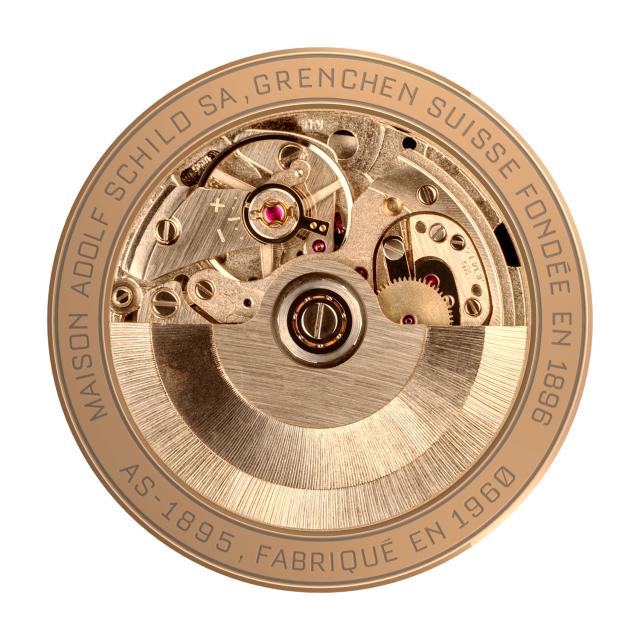 YOUR ADVANTAGE
In any case, you enjoy advantages that go above and beyond the value of the paid purchase price.
SUSTAINABILITY
Our environment is important to us – today and tomorrow. That's why we rely on the re-use and further processing of raw materials and materials.
We use Swiss technology and use short transaction channels – in our case it is an important contribution to the sustainable use of available resources.
PARTICIPATION
You assign your token to a specific model in a collection and have the opportunity for your movement to be built into your favorite limited-edition timepiece.
You will learn how your movement is built into a watch. We document this process for you on a digital platform.
You can add photos, videos and information to the digital book and continue writing the story of your watch.
You accompany your watch into the future and thus keep the enthusiasm for this special item alive for many years to come.
TRANSPARENCY
Each movement is specified in such a way that you know exactly which individual movement is behind your token.
The sales price for the movements is disclosed transparently.
Even generations after us, people can come together who associate just as much with watches as we do. In order to be able to follow the history, the provenance of the own limited watch with a historical movement based on the blockchain technology is immortalized.
SECURITY
Blockchain technology guarantees security and protects against counterfeit watches.
Your movement will be properly and safely stored by DuBois et fils until further processing.
With our innovation, we make it possible to preserve the cultural and historical legacy of these masters of craftsmanship.
We guarantee an increase in value when you buy a watch work token.
VALUE INCREASE
The token can be converted into a voucher for a purchase in the online shop at any time with a factor of 1.2.
You have the exclusive opportunity to purchase a unique watch with your own personal movement at special conditions. In addition, we will buy back the token at the original price.
If you do not want to buy the watch, you can still assign your movement to a watch and in this case benefit from a higher repurchase price. This increased price is set when the movements are issued and corresponds to the anticipated increase in the value of the movement through the preparation and installation into a DuBois et fils watch.
UNIQUENESS
The original historical movements are of high quality and are no longer manufactured today.
Each and every DuBois et fils watch is unique.
In a unique combination, we combine Swiss craftsmanship with the latest technology.
Values such as sustainability and historical ties are retained and are also made tangible. DuBois et fils is setting new standards in the watch industry on its way into the future.
By tokenizing historical watch movements, we are redefining the creation of your watch. Up until now we have limited ourselves to selling a finished product. As the owner of a token, it is now possible for you to be a part from the very beginning. This process is like an incomparable journey through time; it completely opens up new possibilities for each of us.