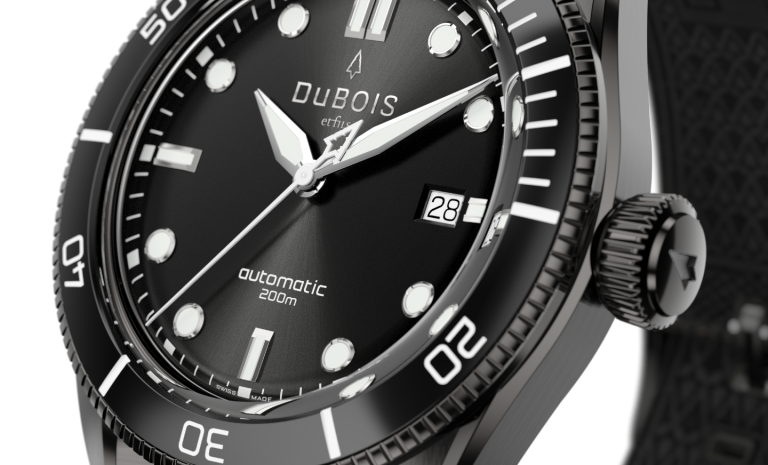 Diver watch with PVD coating
Maximum resistance of the DBF007-03
Worth taking a closer look at is the DBF007-03. This watch has a special added feature: each individual piece is coated with PVD. The DBF007-03 is characterized also outside with extraordinary resistance. Learn more about the numerous advantages of PVD coating here.
ADVANTAGES OF A PVD CAOTING
Physical Vapor Deposition (PVD) describes a physical process in which metal is applied to a material in gaseous form. It is a variant of the coating that has several advantages in watchmaking:
The PVD coating increases the hardness of the material and thus provides effective protection against scratches.
The smooth, fine surface makes it more comfortable to wear.
The mainly black surface is quite appealing to the majority of people. 
In contrast to other processes, the metal is applied extremely gently to the material at not too high temperatures (atomizing or evaporating). The original condition of the watch is retained.
The PVD coating differs from other processes in that it is environmentally friendly. There is no environmentally harmful process behind it.
This process guarantees a high level of corrosion protection.
The requirements for a PVD coating are high. It is a complex process that takes a lot of time and, unlike other methods, incurs higher costs.
Nevertheless, this watch is worthwhile for both seller and buyer. Combining the tokenized AS-1895 movement with the PVD coated case of the DBF007-03, the result is an exceptionally solid and precious watch for every situation in life.
From the movement to the design to the production: the DBF007 is a Swiss diver watch with numerous highlights. DuBois et fils has created a unique, reinterpreted version of this particularly valued watch model. We deliver the highest quality not only inside, but also outside.