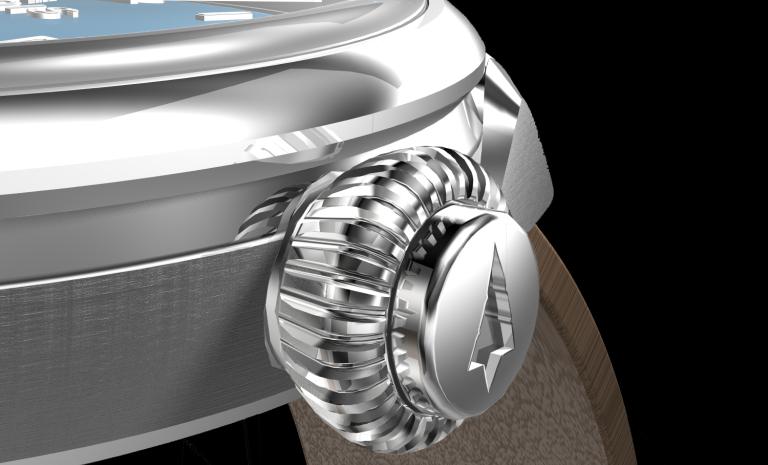 DBF008: optical and technical excellence
The DBF008 is surprisingly striking, despite its small circumference of 39 mm. In contrast to our robust Diver watch, our upcoming watch collection, which will go on sale towards the end of the year, will radiate "noblesse".
Watch lovers immediately recognize the high quality of the watch. The DBF008 is a product with exquisite materials and accurate finishes. But even for connoisseurs it is not always easy to assess a watch according to its qualities and to identify the value of its individual parts. Details can often only be seen upon closer inspection.
The curtain goes up for the crown of the DBF008
The inside of the DBF008 is equipped with the finest in watchmaking art: an historic AS-1985 automatic movement from the Swiss company A. Schild AG from Grenchen ticks inside each model.
An important component is the crown. As soon as it is installed, it not only visually rounds off the image of a watch, but is an irreplaceable technical piece. Very special with the DBF008: each movement is equipped with a crown featuring a push button. This allows the date to be adjusted by pressing the crown.
Only when the individual particles in the crown are aligned with millimeter precision does the watch function precisely. To master this technical challenge, DuBois et fils invested a great deal of time and resources in the new watch. Specialists carefully analyzed the nature and characteristics of the crown. This illustration, which shows the inner workings of the crown, was created on the basis of extensive research and know-how: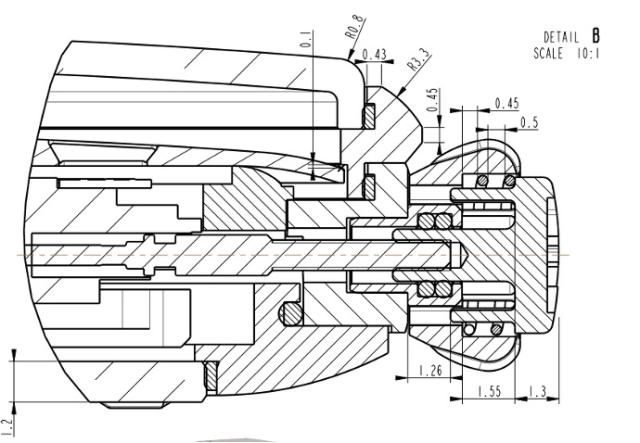 Small particle, complex inner workings
The inner workings of the DBF008 are extraordinarily complex. The crown of the watch is equipped with a rotation function and a push function at the same time. It consists of two elements which function separately and at the same time have to harmonize with each other in the tiniest of spaces.
Due to these special requirements, the production steps of the DBF008 were planned in great detail. The multifunctional inner life of the crown was a technical challenge for the watch. It was extremely exciting for DuBois et fils to witness the development — from movement to finished watch.
For example, guaranteed water resistance was relevant. Several seals are attached inside the crown, including for the push button. The effort that was put into this from the beginning to the end was clearly worth it: the DBF008 watch collection scores visually and works technically at the absolute highest level. We are quite satisfied with the result and believe that you will also be impressed by our work.
With this unique development of the DBF008 we combine our high demands on the watch — quality, function, aesthetics and wearing comfort.