How does my favorite DuBois et fils watch look on me?
There are several ways you can try on our watches. Here you'll find out how:
We come to you: Our DBF concierge will visit you in your region - necessary info on this page.
Experience the history of DuBois et fils in our showroom in Basel.
Visit one of our specialty stores (visible at your favorite watch store).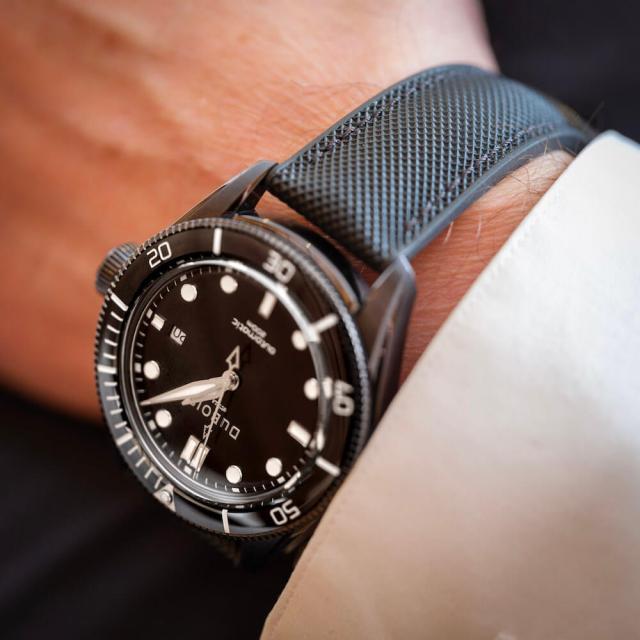 Convenient and close to you: Test our watches on your wrist
Have you always wanted to try one of our DuBois et fils watches on your own wrist? Here's your chance: DuBois et fils at a location near you.
You can try on all watch models comfortably and in peace and quiet, in a place near you (exclusively in Switzerland) whilst getting competent advice.
Our concierge service is straightforward and customer-friendly. We focus on your needs.
The advantages of our concierge service
Trying on DuBois et fils watches through our concierge service has many advantages:
Personal consultation: Our experts will advise you swiftly and competently.
Short trip: You don't have to travel - DuBois et fils will be at a location near you!
The extra mile: You'll learn all the details about your favorite watch.
Your brand: Learn firsthand about the history of DuBois et fils since 1785!
How does the fitting work with the DBF concierge service?
With the concierge service we bring your favorite watch to a location near you. We'll visit you on your desired date and invite other interested individuals along. Once you've filled out the contact form, our DBF concierge will get in touch. We look forward to introducing you to our watch models in person!
Arrange a personal fitting near you now!
Please fill out the contact form and include desired dates, Swiss address and preferred watch models. We will then coordinate our visit and contact you personally.
For all Basler
Of course, all DuBois et fils interested parties in and around Basel can also make use of our DBF concierge service. You can make a personal appointment in our showroom at any time by e-mail: info@duboisfils.swiss.
We look forward to seeing you!